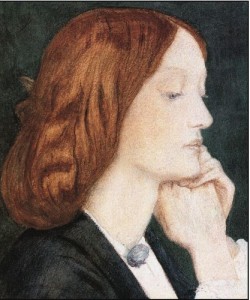 I grew up with Lizzy – we went to Reynolds Junior High, Lincoln High and Binghamton University together. That was not planned, as we were not even friends. It was just coincidence. She was the most beautiful girl in each of those schools and I observed her from afar. She was a 10 and I figure I ranged from 4 up to maybe 7 when my hair grew long and I sported a John Lennon look in the early seventies. So she was untouchable – to me – just a straight on mismatch in the looks department. Her hair was long dark brown and her skin was soft and light. Her body was Jessica Alba. Her lips were Angelina Jolie and her eyes were as captivating as Claire Danes in Baz Lurhrmann's Romeo and Juliet.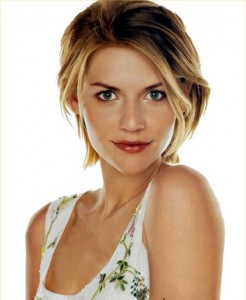 Claire Danes
At college I had begun to make films and also hung out with the legendary Hollywood director Nicholas Ray, who directed "Rebel Without A Cause" and so many other great movies. So what I lacked in looks I thought perhaps I made up in the "being cool" department. My confidence was also up, as I began an affair with the hippest girl on campus – a lesbian – or rather bisexual – fine arts major named Roz with a round face, slender body and long, natural bright blonde hair.   Roz and I were in the same sculpture class and I watched her as she sensually worked the wet red clay on the spinning potter's wheel – I know you're thinking "Ghost" and you're not far off. I was struggling with carving white alabaster stone, and was working on a Brancusi-like depiction of a sleeping muse. I was passionate about Brancusi ever since the Guggenheim's Brancusi retrospective in the early seventies. In my last year of high school, I went to the Museum of Modern Art nearly every afternoon to sit alone in its Brancusi room, where I would observe the elegant Bird in Space, the Sleeping Muse, various Torso's and other works of pure solid beauty and perfection.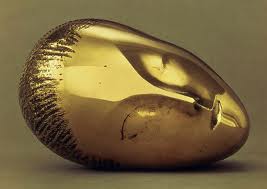 Constantin Brancusi, Sleeping Muse
Roz and I were working late one day and were the only ones left in the art studio. She came up to me, her hands wet with red clay, and smiled at me. "I'm a lesbian, you know," she said. I knew that. Then she proceeded to wipe the red clay from her hands and arms onto my shirt and blue jeans. I began to feel humiliated and resentful, but then gave in to her manipulation. "I'm really bi," she continued, "and you know I think you're cute and I wonder why you never look back at me in class." Now I was truly mixed up. Was she playing with me or seducing me? So I asked her if she was fucking with me.
She then reached her wet red arms around me and gave me a deep and long kiss. Now I figured she wasn't playing with me – although I was completely baffled that she would have any interest in me whatsoever. But it was ego inflation for me, as she was popular on campus and hung out with the coolest of the campus hipsters – punk poets, jazz musicians and a gay dancer who today is recognized as one of the world's leading dancer-choreographers.
She drove me in her Volkswagen Bug to the cabin she lived in on Quaker Lake across the border in Pennsylvania, about half hour from the campus. She shared the cabin with the gay dancer and his partner, who tragically died of AIDS a number of years ago. She led me to her bedroom – we got undressed and climbed into bed.  I reached over to kiss her and she suddenly pushed me away with considerable force. Of course I was once again perplexed. We were naked and under the covers. "Don't even think of touching me," she commanded, as if doing so would be an act of the utmost indignity. I said, "Ok, that's cool.  But what do you want to do?" "I just want to lie in bed and want to sleep," she responded. "And you are invited to spend the night with me in my bed." That felt better, it was alright with me to take it slow and I very much liked being wanted. "But, I swear," she added, "if you so much as touch me, I will castrate you."
I stayed up most of the night, but got some sleep. In the morning, the most beautiful sunrise shone through the picture window in Roz's bedroom, infusing the room with a deep red glow. I sat up and looked out the window – the rosy sun was rising over the shimmering lake like an impressionist painting. I wanted to tap Roz to show her, but was too afraid to touch her. So I  looked at her sleeping for a long while, her long blonde curls comfortable on her pillow, and she reminded me of Brancusi's sleeping muse, and my own inferior attempt to sculpt a sleeping muse of my own. She looked gentle and nonthreatening in her sleep. So I softly whispered to her that the sun was out and it was beautiful. She opened her eyes and looked deeply into mine. Then she smiled. In an act of brazenness, I reached over to kiss her very gently on the lips. She responded by kissing me strong and hard. She then climbed on top of me and we made love.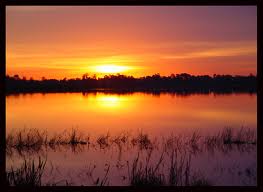 Roz cooked me whole grain pancakes for breakfast, with fresh blueberries and herbal tea. Her dancer roommates joined us. They were very much in love, and I am saddened today to know that one of them is gone. Roz was in a friendly disposition and we hiked around the perimeter of Quaker Lake, which was at least three miles, and a neighbor's  bright red Irish Setter followed us most of the way. We swam at mid-day, and at night went dancing at the local town bars. We went on for a couple of months. Roz was seeing other women at the same time, but I was her only guy – as far as I knew.
That made me confident enough to ask the true girl of my dreams, Lizzy, out on a date. She had surely seen me around campus with the hipsters and arm in arm with Roz, and now I was good enough for her, I thought. I asked her out for drinks at a large, local bar – and she accepted. We danced to a medley of Rolling Stones and then found a small table in a corner. I told Lizzy I was in love with her – was always in love with her, since Reynolds Junior High, Lincoln High and through college. She must have thought me strange but I was being truthful. "What about your girlfriend, Roz," she asked. "Are you in love with her?" "No, it's not like that – she's alright," I said, "but we just hang together, nothing serious."
And then I asked Lizzy to marry me. While we had seen each other around for years, we never exchanged a single word, did not know each other at all, and we were both juniors at college. But I knew in my heart that she was the "one."  She shrugged off my proposal, figuring I had one too many beers and that I couldn't possibly be serious. But like Jean Marais' elegant Beast in Jean Cocteau's "Beauty And The Beast," I promised to ask her every night until she said "yes."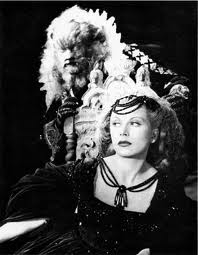 Jean Cocteau's "Beauty and the Beast"
Lizzy and I dated on and off – mostly off – in college and for several years after college. I kept my promise and asked her to marry me every night, by phone, by letter, and on the very infrequent date, in person. I rather became a nuisance to Lizzy after a while, and she decided on a plan to free herself of what she felt was my obsession with her.  It was not an obsession to me but true love – but she wasn't having it. Lizzy was now working as a paralegal in midtown Manhattan, and her co-worker, Dinah, was an attractive red headed paralegal who grew up in Scarsdale – her family was Wall Street rich. Lizzy hatched this idea to introduce me to Dinah – she thought Dinah and I would hit it off, that I would be happy, and that Lizzy would then be free to have what she wanted from me – to be my friend and nothing more.  It was a win-win idea – so it seemed to Lizzy.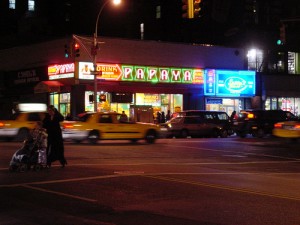 We met for cocktails at a piano bar on the Upper East Side after Lizzy and Dinah finished work. It was a three way date, but the set up was very clear. We had a couple of drinks, and Dinah was eying me intently, smiling at me, and Lizzy seemed to be right – Dinah was right for me – or at least, I was right for Dinah. She liked me. I was fine with her – not the kind of sparks I felt for Lizzy, but maybe it could grow to something more if given the chance. At any rate, this was cocktails – not an arranged marriage.
After the third round of drinks, Dinah reached under the table with her foot and rubbed my ankle. I thought that was sweet. But Lizzy noticed and became visibly perturbed. Why? I don't know, as the whole idea was for Lizzy to set me up with someone else in order to gain her freedom and provide me with happiness at the same time. Dinah was getting a little tipsy, so I asked her how she was feeling, and was there anything she would perhaps like to do?
Dinah looked me squarely in the eyes and said, "You really know what I feel like doing? I feel like a good fuck!"
I liked that – it was straightforward and I like that in people. Lizzy lost it, however, and knocked over two of the drinks,  which fell to the floor in a loud crash, disrupting the mellow jazz piano and prompting several waiters and busboys to come over – it became all a great big fuss. Lizzy announced that we'd all had too much to drink and it was time to go. I told Lizzy I was fine, the waiters will clean things up – not to worry. Lizzy now firmly grabbed my arm – hard – and said "let's go!"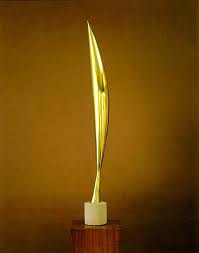 Constantin Brancusi, Bird in Space
Lizzy practically dragged me out of the bar. Dinah wrote her number on a matchbook and handed it to me with a wink and a smile. I thanked her and said I would call her. Lizzy hailed a cab and we were soon in my apartment in Park Slope, Brooklyn. "What a fucking slut!" Lizzy exclaimed. I told Lizzy I thought Dinah was rather sweet and that I liked people who say what they mean and mean what they say. Lizzy asked me to take her to my bedroom.  I just looked at her.  She then said, "I'm horny." I was like, "really?"
Afterward, we were getting dressed. Lizzy turned to me, kissed me passionately and said, "the answer is yes." I said, "yes what?" She responded, assertively, "I accept your marriage proposal of six years ago." I wanted to remind her that the last proposal was yesterday, since I had kept my promise, like Jean Marais' Beast, to ask her every night for her hand. So that was 2,190 proposals, give or take. But I wanted to quit while I was ahead, and asked her if she meant it. She did. But she wanted a very small wedding – just the two of us at City Hall.
* * *
Excerpt from a novel I have been writing called "White Sand Falling."
(If you like this post and my blog please visit my facebook page here and click "like")