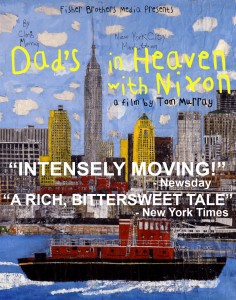 I have seen a beautiful and moving film called "Dad's in Heaven with Nixon," and I am very pleased that the new company I work for, Fisher Klingenstein Films, has acquired this great documentary for domestic distribution. The film can currently be seen on Showtime, but the film is also available to pre-order on DVD right now – simply click this banner:
The film deals with one family's coming to terms with a son who is autistic, as well as a father who suffered from bipolar disorder. The film resonates with me and my brother Jack very closely, as it in some ways mirrors our first documentary, "A Generation Apart," which deals with the impact of the Holocaust on families of survivors, including our own family. "Dad's in Heaven with Nixon" deals with the impact of mental illness on one family – filmmaker Tom Murray's. It is a stunning and exceptionally moving look at the way this family has dealt with mental illness.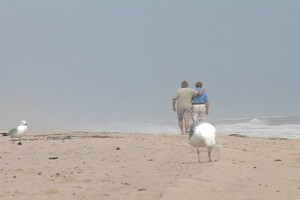 Tom and Chris Murray
We are proud to be associated with the film in another way – our film "Unforgotten: Twenty-Five Years After Willowbook" deals with the aftermath of the infamous Willowbrook State Institution – a scandal that was uncovered by Geraldo Rivera three decades ago. The Willobrook scandal made a huge impact on society's treatment of the developmentally disabled. Our film "Unforgotten" continues to be seen all over the country each day, by individuals, in schools and health organizations, and has become a teaching and motivational tool among health professionals. We are so proud to help make a difference.
On a more personal and intimate level, my brother Jack is bipolar and my son Aaron also was diagnosed with bipolar disorder four years ago. I know firsthand the heartbreaking challenges in dealing with this illness and how it impacts not just the individual with the illness but the entire family.
It is a wonderful feeling to produce films that inspire and inform as well as entertain. It is also highly rewarding to serve as a distributor on films that matter, and I am hopeful that many of you will have the opportunity to see this heartwarming movie.
Please check out the website for the movie here.
The New York Times gave the movie a very well-deserved rave review here.
I encourage you to join the Facebook page for the film, called "Dad's In Heaven With Nixon," become a fan, and help spread the word in promoting meaningful documentary film.
If you are so inclined, please consider reposting this blog entry on your Facebook page to help us get this important film get all the attention it deserves.
So many wonderful things are coming together for me and my brother Jack and our colleague Joel. Please stay tuned for much more news to come!
Be among the first to pre-order the DVD by clicking: Dad's in Heaven with Nixon