My mother took me to an office of the Educational Alliance on the Lower East Side.  I was looking forward to having a knish at Katz's delicatessen afterward.  My mother spoke with an administrator, who was typing information on a form – how much my father made, that kind of stuff.  We were applying to summer camp – this would be my third and final year.  I had plenty of trepidation about returning that summer.  I was afraid that Caroline would be back, and I would be so terribly embarrassed to see her again.  I hoped she wasn't coming back.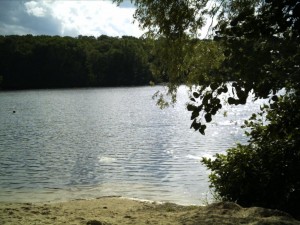 Caroline was my first girlfriend.  I had been eleven the last summer – she was twelve.  When we sat on a big boulder outside the dining hall in the afternoon, Caroline moved my arm around her shoulder.  She was my girlfriend, so I guessed that was ok.  But then she took my hand, and moved it down so that my fingers lay over her breast.  I wasn't sure if that was accidental or deliberate.  I gently moved my hand back up.  But she pulled it back again so that it brushed lightly against her breast.  I could feel her nipple through her blouse, and it was a strange thing to touch.  I felt awkward and embarrassed.  I wished she wouldn't do that.  I hoped no one else saw.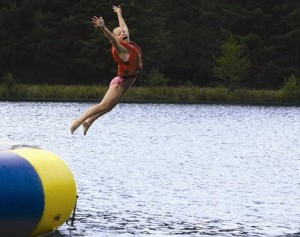 We walked hand in hand down the dirt road from the dining hall, back to the cabins. Behind us, some girls were laughing, and one girl asked Caroline where she got her dress.  Caroline seemed indignant, and told me to ignore the stupid girls.  The girls kept teasing and taunting.  "Why don't you wear one of your own dresses, Caroline?"  I didn't know what they were talking about.  Caroline seemed embarrassed by the girls' remarks.  I didn't know what the big deal was about her dress.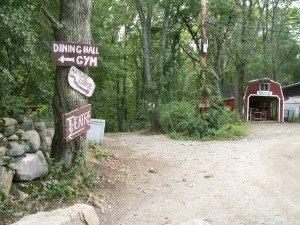 Caroline and I turned into a narrow dirt side road and waited while the other girls walked past us.  They continued to jeer at Caroline as they walked by.  "Whose underwear you wearing, Caroline?" asked a plump black girl.  Caroline ignored the comment.  I wondered what they were talking about.  When the girls were gone and we were alone, Caroline took me in her arms, and kissed me.  She tried to slip her tongue between my lips, and I resisted.  I thought it was a strange thing to do.  The tip of her tongue sharply pierced my tightly pressed lips; it stung.  I would have been content with just a regular kiss.  Later on, boys told me about tongue kissing – but that was later on.  Although I didn't understand Caroline's way of kissing, and didn't particularly care for it, I felt that this made her my girlfriend, that she was mine, and I was hers.  She had had a previous boyfriend, a tall, skinny Irish kid with reddish-blonde hair and freckles.  I was her new boyfriend.
The night of the social, the lights in the lodge were turned low.  Caroline and I were grinding to the slow music.  We were holding each other as tight as we could, and I could hear her breathing, and feel the beating of both of our hearts, and we were both very warm against each other, and I didn't know how to dance, but all I had to do was just squeeze her tight and move our pressed bodies ever so slowly to the music, while shuffling my feet awkwardly against the pine wood floor.  "What's it all about – " the dance lasted an entire lifetime – "Alfie…" The song ended, and Caroline separated from me with a slight smile.  Out of nowhere, the skinny Irish kid with the blondish-red hair appeared and asked Caroline for the next dance.  She said sure.  I was flustered and hurt.  She was mine, and the Irish kid was her past.  They danced intimately, the way Caroline and I had just danced.  I was left to watch, awkwardly.  Now I thought she played a great big trick on me.  She wasn't mine anymore, and was going back to him!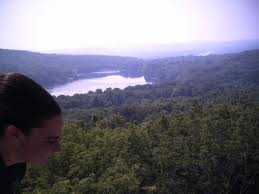 I left the lodge, and climbed up a thickly wooded hill that overlooked the lodge.  I climbed higher and farther until the lodge was distant and small, glowing amber in the blue-black night.  I was alone in the woods, and I dropped down on my knees, and cried to the forest, where no one heard me but the crickets, but I could hear myself.  I had lost Caroline.
The social was over, and I walked back to the lodge, where boys and girls were milling around outside.  Caroline was alone, and she walked up to me, asking where I had been.  I asked her where the Irish kid was, and she was puzzled.  "Aren't you back with him?"  "Nonsense," she replied.  "We just danced together, that's all, silly!"  She took my hand, and then we walked down the dirt road, arm in arm.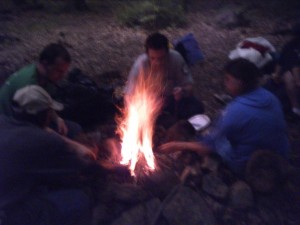 At the end of that summer, I overheard some girls from Caroline's cabin talking about her.  I walked closer to the group of girls to listen, and they spotted me.  "You ought to know about your Caroline," one girl said.  "She's so poor she's got nothing to wear.  Whatever you've seen her wear doesn't belong to her.  She's borrowed clothes from every one of us – even from the counselor.  She doesn't even own her own underwear.  Dirt poor, and she won't admit it, either.  She hasn't told you nothing, right?"  I shook my head.  "White trash," the girl muttered, in explanation.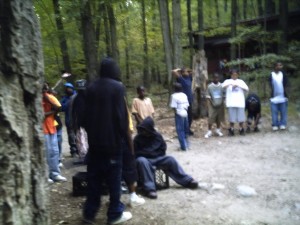 Caroline had given me her phone number, but I never called her; I wanted to forget about her.  I hoped I didn't run into her at The New York World's Fair, which was in Queens, where I knew she lived.  Now it was time for another summer season at Camp Vacamas, and I hoped to God Caroline would not return.  I sat on an old, worn couch in the office of the Educational Alliance as my mother answered the questions of the administrator, who continued to clack away loudly at her typewriter.  I glanced at the table in front of me, and picked up a brochure for the camp.  The cover read, "Camp Vacamas – A Summer Experience for Disadvantaged Youth."  I was mortified.  Disadvantaged?  Is that what I was?  I was less than other kids?  Then I thought about Caroline and how she couldn't even afford to wear her own underwear, and wouldn't come out and talk about it, either.  I could wear my own clothes, at least.  But I didn't want to see Caroline, and I didn't want to go to some camp for unfortunate, lesser, miserable kids.  I tugged at my mother's sleeve and told her I didn't want to go back to camp.  She said I didn't have to, as the administrator pulled the completed application out of the typewriter.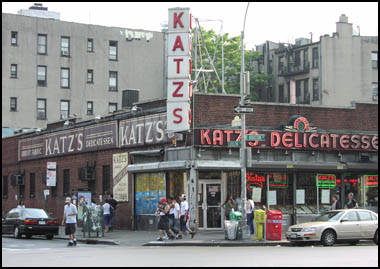 My mother and I ate knishes at Katz's delicatessen on East Houston Street.  I ended up going back to camp that summer, after my mother promised to buy me a leather baseball glove and a real baseball.  Caroline didn't return that summer, and I never saw her again.
* * *
Excerpt from a novel I have been writing called "White Sand Falling."
(If you like this post and my blog please visit my facebook page here and click "like")