"When we're being puppeted by our insecurities, we read into everything. It's as if we plot our own demise."
Ever since I met Sean Stephenson, who is three foot tall and has overcome tremendous physical and psychological hardships, I have turned to him for wisdom and inspiration.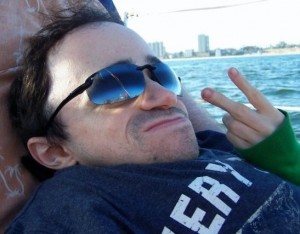 Sean is not only one of the happiest people I have met, but he has dedicated his life to help others find contentment and overcome life's challenges.
"Just imagine a world where everything is ALWAYS going your way, even when it doesn't look like it. That's actually the truth of life."
I turn to Sean's sayings every day – sometimes every five minutes. I need to be continually reminded.
"If you know your personal truth there's no need to prove it to anyone else. Energy spent proving is energy wasted."
I spend so much time trying to prove myself to others. Why do I do that? I wrote one and only one screenplay in my life, and I placed it on a far away shelf for no one to see. I am not a writer and why would anyone want to read my screenplay? It is now moving closer to production as a major movie ("Interrupted") with big stars and will be directed by one of America's greatest living directors (Philip Kaufman). My co-writer (Oren Moverman) has been nominated for this year's Academy Award for Best Original Screenplay ("The Messenger"). I suffer from phobias. One of my lifelong phobias has been winning an Academy Award, as I would never be able to step up onto a stage with the world watching. I have so far been spared such a nightmare! Good luck Oren!!!
"We waste so much time brooding about the past and worrying about the future, we often miss the shimmering of the present."
Life is now. It is so obvious – why do I continually forget?
"Working on yourself is the best gift you can give to those you love."
I found the gym to be incredibly crowded the first week of January – New Year's resolutions week – I think it must be much less crowded now – but, then, how would I know?
"If something is meant to happen, take solace in knowing that it will and no force can stand in its way."
On the first film my brother Jack and I made, "A Generation Apart," Jack said the project was blessed and meant to be. We had no money, but it somehow materialized. I will never forget Jack and I sitting in a windowless room, facing each other in silence across opposite sides of a desk, on which was a black phone. We stared at the phone for hours and realized we had no one to call. But there was always someone to call, even if it was a name out of the white pages. The phone on the desk represented an insurmountable barrier – yet it also represented an entire world of unbounded opportunity.
"Staying calm is so underrated. The calmest person in the room controls the dynamics of the interaction. Your ability to stay calm, no matter what madness arises is your greatest resource."
I have surprised people with my calmness for so many years and have had success with it. Yet I become hotheaded on occasion – usually at the absolute worst times.
"If you avoid difficult conversations you experience painful situations."
The greatest mistakes in my life arose from avoiding difficult conversations. With others. And with myself. If I can go back in time and change my past to make it better, it would mostly involve adding the many difficult conversations I never had.
"Create a future that is so compelling that you laugh at obstacles. You know where you are headed, keep going my friend!"
I'm going. On and on and on and on.
"On your darkest days remember what it feels like to have sunshine on your face."
(If you like this post and my blog please visit my facebook page here and click "like")