The devastation in Haiti is a sledgehammer of a reminder to us all that our problems are nothing.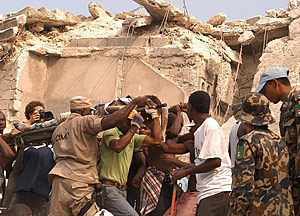 I had a very successful day and made continuing progress in my efforts to rebuild my business. But as I look at the images and reports coming out of Haiti, I realize that what I am rebuilding is nothing. My parents truly rebuilt their lives after their lives and families were devastated in the Holocaust. My mother was a beautiful girl – just 16 years old – when she was rounded up and put on a cattle car bound for Auschwitz. Her sister was even younger, just 13. When her train arrived at Auschwitz, she was quickly separated from her mother and most of her brothers and sisters – they were never again to be seen and soon disappeared into the black smoke that rose from the tall smokestacks at Auschwitz. My mother and her sister were forced to strip naked, their hair was cut and their heads were shaven and my mother watched with tears as her sister's beautiful locks of curly hair fell to the ground. Doctor Mengele, Auschwitz's notorious "Angel of Death" examined my mother each day as she stood in line and Mengele made his "selections" – who was to live and who was to die.
My mother had a boyfriend who was put to work in the crematorium and knew the fate that soon awaited him. He saw my mother and admonished her to do anything she could to get out of Auschwitz – anything. He forced her to say the following words out loud: "I will do anything to get out of Auschwitz." Soon after his warning, the German SS were rounding up the most beautiful girls to be taken somewhere – my mother did not know where but suspected the worst. She remembered what her boyfriend had made her swear – he had already disappeared – and she raised her hand and called out to the SS soldiers and asked to be taken. A fellow inmate was horrified and said to her: "Are you crazy? Do you know where they are taking you? For the pleasure of the Nazis!" But my mother decided to keep her promise to her boyfriend. Her instincts were to survive. She survived.
After her liberation, she learned that her 13 year old sister had survived, too. They embraced in tears and in joy and the first words her sister exclaimed were: "I'm a virgin!" My mother answered, "I am, too" And they hugged and cried on the street corner for a long time. My mother told me this story, among many others. I will never know what she had to do to survive, and it is possible that whatever she had to do, along with so many things she experienced, were just too shocking for even her to recall. But she did have recurring nightmares throughout her life.
The worst nightmares she had, however, were in Auschwitz. Sleeping on cold planks in barracks with hundreds of other starving inmates, she would awaken from her nightmares only to find herself in a reality that was even worse than her nightmares.
My mother passed away nearly three years ago, from Alzheimer's. As she deteriorated, she began to mistake me for one of her younger brothers who did not survive the death camp and she called me by his name whenever she saw me. I took her aside once and explained to her that I was her son, not her brother, and that her brother was murdered by the Nazis. She laughed and claimed that I was speaking nonsense and said, "why would anyone want to murder my young brother – he was so sweet and innocent and just 12 years old and besides I just saw him riding his tricycle and you are speaking complete nonsense that anyone would want to murder innocent people like my little darling brother for no reason."
I did not cry when my mother lay in a coma in her final hours. I did not cry at her funeral. I cried when she sent me a birthday card soon after she was diagnosed with Alzheimer's, when she was still able to communicate. She wrote: "God has blessed me with such a wonderful life."
The photograph on the upper right of this blog is of my parents, taken in 1947 at a Cyprus detention camp, where my parents were refugees and waiting and hoping for a chance at a new life, in Palestine, soon to become Israel. There is joy in their eyes, the joy of liberation, the joy of a new beginning – the joy of life.
"We were slaves unto Pharaoh in Egypt, and the Lord took us out from there with a strong hand and an outstretched arm. If the Holy One, blessed be He, had not taken our fathers out of Egypt, then we, our children and our children's children would have remained enslaved to Pharaoh in Egypt. Even if all of us were wise, all of us understanding, we would still be obligated to discuss the exodus from Egypt." – From the Haggadah of Passover.
You can make a donation to help Haiti relief efforts at http://www.clintonfoundation.org/haitiearthquake
(If you like this post and my blog please visit my facebook page here and click "like")