I am grateful and appreciative of the responses I have received on my new blog. So now I am a bit self-conscious writing, as I know that some people are actually going to read what I write, and some of those people may be ones who have already told me how much they've liked what I've previously posted – so I am anxious to not disappoint.
"We were talking – about the space between us all
And the people – who hide themselves behind a wall of illusion…"
I may have connected with people because I have come out of the closet of pretense that all is well – others have gotten in touch with me and said that they have had a tough time this past year too, and I think people take comfort that they are not alone. I certainly do.
I am feeling good and remain confident about the future. I am more and more feeling a sense of ease communicating with people. So far, the toughest part of my life is the nighttime, as I still have anxiety dreams in which I relive some of the torment I experienced in 2009. I am so glad it is 2010. I can now compartmentalize last year into a number – 2009 – and I can declare last year officially over. But I can only do that in the day time. I have not learned how to do that while sleeping and dreaming, when for some inexplicable reason my mind wants to relive and experience again and again what I am working so hard to get behind me.
Some people last year said some hurtful things to me, and some people did some hurtful things to me. By day, I forgive them and I am so happy to move forward with my life. By night, those people say the same things to me and do the same things to me over and over again, and I wake up in a cold sweat and say to myself, "Did this really happen? Did these people really behave this way?" And then I start the day and those thoughts go away and I am focused on my day's work. I find that I like everyone I speak to, whether by email, phone, or in person. I have lived my entire life as a rather shy person, not terribly social, and not very comfortable with people. Now I find myself more comfortable with people than I ever have been. And perhaps my nights of bad dreams are helping me to be comfortable with people. Because at night, there are bad people in my dreams, people who hurt my feelings, who astonish me with their behavior – real people, or composites of real people, people from that other time period – that period we call 2009 – and when I am awake and speaking with other people, they are so friendly, not at all hurtful. In the day I am liked. I like being liked, and I have lived my entire life being liked by just about everyone, with the exception of 2009.
"We were talking – about the love that's gone so cold and the people,
Who gain the world and lose their soul -
They don't know – they can't see – are you one of them?"
Now to make matters more complicated, I also speak each day with some of the bad people from my dreams – and during the day even they are nice. They have changed, they have mellowed, they say nice things to me and it seems that they now like me. People who have issued severe threats to me in 2009 call me up these days to see how I am doing and wish me the very best and ask when we can get together and have lunch. I have even been discussing new ventures with some of them.  I tell you its bizarre.  One thing I have always believed in is not burning bridges.  Now, I have actually received a number of death threats in 2009.  And even with those people I am prepared to resume a professional relationship and friendship.  But I will not meet them in a back alley – just in case.
"Try to realize it's all within yourself
No one else can make you change
And to see you're really only very small,
And life flows within you and without you…"
I looked at the stock charts today and examined the Dow Jones Average for the past 12 months and I wondered – could people's moods be fluctuating – literally – with the Dow Jones Average?  Can that possibly explain why some of the people who tormented me in 2009 are good to me today?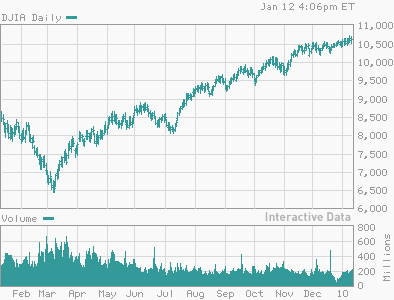 When I examine the chart, it seems to correspond with the year I had last year.  January through March was a precipice for me, just like the chart.  March through June was getting myself off the mat.  In mid-July, a Wall Street tycoon, J. Morton Davis, invited me to work out of his offices at the company he owned, DH Blair, as an act of kindness and generosity, and it became a wonderful refuge for me, feeling supported and nurtured, and I met lots of terrific people there.  It was the beginning of rebuilding for me and it was so helpful to be in an environment that was so different than where I had been.  As you can see, the chart climbs up sharply from mid-July through today.  My own mood, my prospects for rebuilding and the way people treat me have coincided with the Dow Jones Average. Coincidence?
"When you've seen beyond yourself – then you may find, peace of mind,
Is waiting there -
And the time will come when you see
we're all one, and life flows on within you and without you."
- George Harrison
(If you like this post and my blog please visit my facebook page here and click "like")